You are here
Executive Office
The Executive Office consists of the Chief Sergeant-at-Arms, Deputy Chief and the Senior Assistant. The office is located on the third floor of the State Capitol Annex building adjacent to the Assembly Chambers. The Executive office serves as the core liaison between the Assembly Membership, law enforcement offices and state and public agencies.
The Chief Sergeant-at-Arms office provides a wide range of services. Services include administrative tasks and responsibilities within the department. As liaisons with the Legislative staff, law enforcement, state and public agencies, the staff of the Office of the Sergeant-at-Arms must maintain a high level of confidentiality. Among other duties, the office staff serves as main contacts for coordinating and managing the Capitol Garage Loading Dock Access Security (CGAS) for the State Capitol.
Chief Sergeant-at-Arms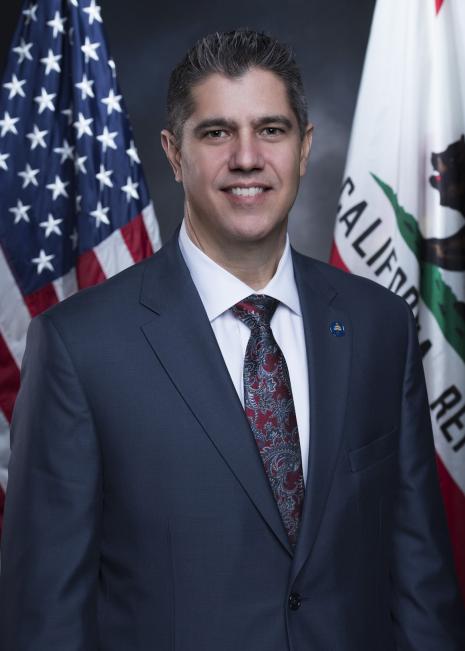 Bryon G. Gustafson, Ph.D., has been a public servant for 25 years. The California State Assembly unanimously elected Dr. Gustafson to serve as its Chief Sergeant-at-Arms on January 30, 2017. Previously he was Chief of Police at the Stockton Unified School District Police Department from 2014-2017 and Chief of Standards, Evaluation, and Research at the California Department of Justice, Commission on Peace Officer Standards and Training (POST), where he worked from 2005-2014. Dr. Gustafson also served as an Affiliated Faculty Researcher (2014-15) and Lecturer (2010-2014) at the University of Colorado Denver where his work focused on training and policy interventions relative to the causes of fatal and career-ending law enforcement traffic collisions.
Chief Gustafson is a graduate of the 218th FBI National Academy and was the 113th President of the Delinquency Control Institute at the University of Southern California (USC). He holds a Ph.D. in Public Affairs from the University of Colorado Denver, is a Pi Alpha Alpha MPA graduate of USC, and also holds a Magna Cum Laude BS in Psychology from Excelsior College. He is married to Dr. Sara E. McClellan, an organizational communication and development consultant. They have two cats--Sedona and Theo--and make their home in Downtown Sacramento, CA.​